Presence of the world's top architectural masters a highlight this year's edition, which will also shine a spotlight on Italy's legacy of cutting-edge design
4-9 December, Hong Kong Convention and Exhibition Centre
#BODW2017
(Hong Kong, 1 November 2017) Business of Design Week (BODW), Asia's leading annual event of design, innovation and brands, returns to Hong Kong from 4-9 December. An initiative of the Hong Kong Design Centre (HKDC) with CreateHK as major sponsor and Hong Kong Trade Development Council (HKTDC) as the co-organiser, BODW 2017 sees Italy return as official partner country, with leading Italian and international designers across a number of fields actively participating in the week-long event. Guided by the curatorial theme "Italy Makes A Difference", BODW 2017 will unlock new business opportunities at an international level through a broad scope of programmes covering themes such as Brands & Innovation, Communication & Design, Product & Design, Design for Asia, Space & Design, Culture & The City, and Heritage & Design, which makes its debut at this year's edition.
BODW 2017 will see some of the most influential thought leaders in the business of design share their fascinating insights with audiences, with an impressive lineup of experts from architecture. Masters speaking at this year's edition include Massimiliano and Doriana Fuksas (Studio Fuksas); Professor Jacques Herzog (Herzog & de Meuron); Alberto Meda (Alberto Meda Design); Mario Bellini (Mario Bellini Architects); Sou Fujimoto (Sou Fujimoto Architects Inc.); Marco Balich (Balich Worldwide Shows); Ben van Berkel (UNStudio); Dr Paul Thompson (Royal College of Art); artist Edoardo Tresoldi; Mitja Borkert (Automobili Lamborghini S.p.A.); Oscar Farinetti (Eataly); Rocco Yim (Rocco Design Architects Ltd), and many more.
The Heritage & Design session makes its debut at BODW 2017, and is anchored by a string of leading creative minds from Italy who have been invited to share their insights with attendees. Speakers in this session will include master luthier Lapo Vettori (Paolo Vettori Daughter & Sons), Giulio Vinaccia (Giulio Vinaccia & Associates), Jacopo Foggini (Galleria Jacopo Foggini), musician and independent producer Zhu Zheqin, Dadawa (KANJIAN Creation) and more. The new focus on design heritage is part of the ongoing growth in scope of BODW, representing the event's legacy of celebrating the rich world of design. The multi-disciplinary event serves as a valuable platform for professionals across industry and sector to network, exchange ideas and explore business collaborations, through programme highlights including the BODW summit, a gala dinner, networking events and concurrent events, as well as an fascinating roster of satellite events taking place throughout Hong Kong to ensure that the creative spirit is felt citywide.
The collaboration between Hong Kong Design Centre and Italy comes ten years after the European nation was most recently selected as partner country for the leading design event. "Following a successful and very well received partnership at BODW a decade ago, Hong Kong Design Centre is delighted to once again be partnering with Italy for Business of Design Week," says Professor Eric C. Yim JP, Chairman of Hong Kong Design Centre. "Regarded as a worldwide powerhouse of style and design, Italy has led the way in the worlds of luxury, interior design, fashion, automobile design, and architecture, among others, and we look forward to once again providing a leading global platform in Asia for individuals and organisations from the business communities and creative industries across sector and profession to exchange knowledge and insights with some of the world's leading industry experts across a diverse range of disciplines."
The logo and curatorial theme for BODW 2017 were masterminded by leading Italian architect Dario Curatolo, of Rome-based design firm Four in the Morning. "I am truly honoured to have been selected to help showcase Italian designs to an international audience," says Curatolo. "It is not just one Italian designer who has made a difference though – our rich cultural heritage and appreciation of beauty in all its forms speak to a vision and a methodology that runs through the Italian DNA. It's this way of thinking which means that Italian design continues to make a true difference to people's lives."
BODW is an accredited event celebrating the 20th anniversary of the establishment of the Hong Kong Special Administrative Region. A number of ticket packages are available, with early bird prices until 6 November. For more information about this year's programme and ticket purchase, please see bodw.com.
Pictures: Project reference of highlighted speakers at BODW 2017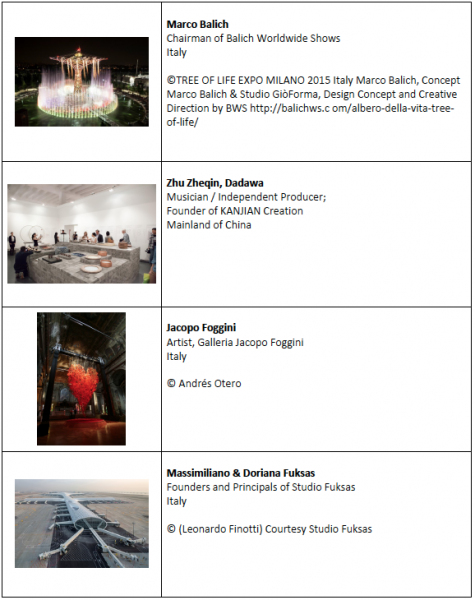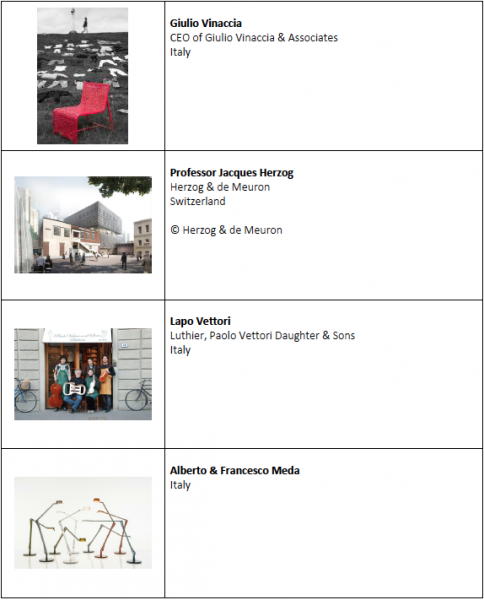 High-resolution images can be downloaded here:
Link: https://www.dropbox.com/sh/5achmacz38acrb1/AAByyJ74ylE0T3zgXjBXEOTqa?dl=0
About Hong Kong Design Centre
Hong Kong Design Centre (HKDC) is a non-profit organisation founded in 2001 as a strategic partner of the HKSAR Government in establishing Hong Kong as a centre of design excellence in Asia. HKDC continues its public mission in using design and innovation to drive value creation of business development and improve the well-being of society, through the provision of diverse innovation-oriented knowledge sharing and exchange platforms, anchored by five major work directions: CONNECT, CELEBRATE, NURTURE, ADVANCE and ENGAGE.
HKDC's flagship programmes include Business of Design Week (since 2002) – Asia's leading annual conference and event on Design, Innovation and Brands; DFA Awards (since 2003) – the most recognised design awards from an Asia perspective; Design Incubation Programme (since 2012) and Fashion Incubation Programme (since 2016) – 2-year incubation programmes to nurture future design and fashion entrepreneurs; FASHION ASIA HONG KONG (since 2016) – a new initiative combining conversations, interactions and cultural exchanges to energise the city's image, and positioning it as an Asian hub for fashion trade and business development; Knowledge of Design Week (since 2006) – an annual thematic design knowledge sharing platform on how design can solve complex challenges of our society.
Media Contacts
For more information or to request interviews, please contact Sinclair at (852) 2915 1234
Jessica Man | jessicam@sinclaircomms.com I (852) 6083 0157
Adrian Lo | adrian@sinclaircomms.com | (852) 9128 5466
Nikki McLucas | nikki@sinclaircomms.com | (852) 6895 0534
Anna Choi | anna.choi@hkdesigncentre.org | (852) 3793 8427
Helen Lai | helen.lai@hkdesigncentre.org | (852) 3793 8413